About this campaign
Here at www.loadandhelp.com, everybody can download full versions of FreeOffice 2021 for Windows, Mac and Linux as well as FreePDF 2019 for Windows – both free of charge and without obligations. For every download through Load and Help, SoftMaker donates € 0.10 to aid and charity projects around the world.
This campaign runs from December 14 through December 31, 2021.
We need the support of this site's visitors. Please spread the word by telling friends and co-workers about it, by posting to Facebook and Twitter, by talking about Load and Help in web forums, etc. You get free software, and we support people in need.
We account for every supported project and the donated money. This means everybody can be sure they helped good and sensible projects with their download.
Images
"Load and Help" banner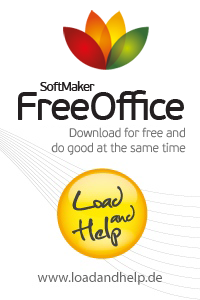 "Load and Help" logo

SoftMaker Software GmbH – the company
Since its foundation in 1987, SoftMaker has been developing office software: word processor (TextMaker), spreadsheet (PlanMaker) and presentation graphics (SoftMaker Presentations). The "flagship" product SoftMaker Office is available for Windows, Mac, Linux, iOS and Google Android.
The features which put SoftMaker software in a class of its own include its intuitive user interface, ease of use, seamless compatibility with Microsoft Office file formats and the sheer speed of the applications – these benefits together with attractive pricing make it an unbeatable combination.
SoftMaker's second productivity application is FlexiPDF, a PDF editor that makes modifying PDF files as easy as working with a word processor. FlexiPDF offers the full functional range of a high-end PDF editing solution, without the high price tag.
High-quality computer fonts are the third string to SoftMaker's bow. With the product lines MegaFont NOW and infiniType, both home users and professional designers have affordable access to first-class font libraries.
The person behind Load and Help
Martin Kotulla, SoftMaker's CEO, has this to say about the campaign:
"SoftMaker wants to offer high-quality office productivity software to everybody, and do good at the same time. Our goal is to raise as much money as possible with the Load and Help campaign. Every download counts: it increases the amount that is donated by SoftMaker. We give the money to carefully selected charity projects around the world, which are presented by the non-profit charity platform betterplace.org.